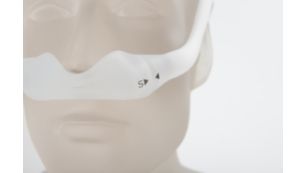 Cushion under the nose
The mask cushion lies gently under the nose, which causes no pressure points on the bridge of the nose and prevents unpleasant skin irritations on the nostrils.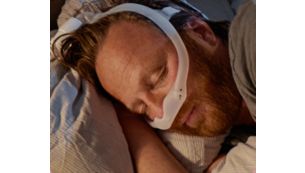 For a more natural sleep
DreamWear combines the advantages of minimal contact masks and nasal masks, provides high comfort and can contribute to successful sleep therapy.
Hose connection on the head
The exhaled air is not discharged directly at the nose, but at the top of the head. This hose positioning allows more freedom of movement during sleep. Users say they no longer need to sleep in a specific position with DreamWear, but have more freedom. *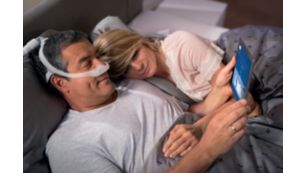 Read without disabilities or watch TV
Thanks to the open design, DreamWear offers a very large field of view, so you can easily wear glasses and read, watch TV or use a tablet PC in bed before going to sleep.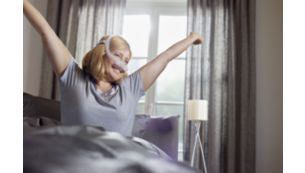 Soft, flexible mask frame
The flexible material, through which the air flows, gently rests on the skin, prevents pressure points and provides a comfortable fit.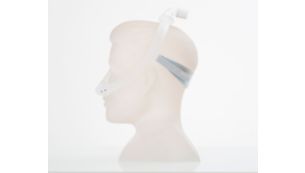 Slim headgear design
DreamWear unites comfort and aesthetics – the headgear is unobtrusive and sleek in color, making DreamWear as discrete and uninterrupting as possible.
Innovative mask design for more freedom in sleep therapy
The innovative design* of DreamWear prevents pressure sores and skin irritation on the nostrils and on the nose bridge, and allows the user, in addition to a clear field of view, more freedom of movement through the hose connection on the head.
More comfort with DreamWear
Users said DreamWear was more comfortable to wear than their previously prescribed mask, as it is barely noticeable.