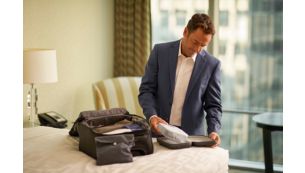 Lightweight, compact design makes it easy to pack and carry
The DreamStation Go heated humidifier is designed to make packing a breeze. It's the thinnest travel heated humidifier among leading PAP brands⁵, so it's easy to take along whether your traveling by land, sea, or air.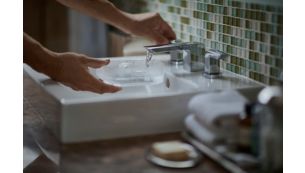 Freedom to use tap water³
With the freedom to use tap, bottled or distilled water³, the DreamStation Go heated humidifier reduces the inconvenience of taking along heavy, bulky containers or searching for distilled water when you arrive. That means you can choose to travel light and still enjoy the same comfort of heated humidification that you experience at home.

Smart humidification. All night long.
DreamStation Go features water-saving technology designed to give you a full night of heated humidification⁴ by actively monitoring ambient conditions and therapy settings and automatically adjusting moisture delivery when humidifier target time is enabled. Also, In the event you underfill or forget to fill the humidifier, our heater plate shutdown feature will take over to prevent dry, uncomfortable air from being delivered to you for the remainder of the night.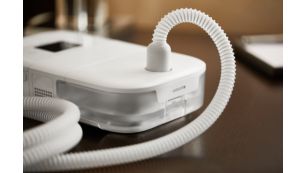 Manages water usage evenly for comfort throughout the night
The DreamStation Go heated humidifier's water-saving technology adapts to a wide range of ambient conditions to deliver humidification evenly throughout the full night's sleep.⁴ You can enjoy the same all-night comfort you experience at home, no matter where your travels take you.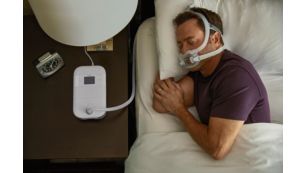 Use any mask you like
When you've found a mask you're comfortable with, the last thing you want to do is be forced to switch your mask while travelling. The DreamStation Go heated humidifier is designed to work with any mask that works for you, so you can enjoy on-the-go heated humidification from the comfort of your own mask.²